About the Cincinnati Real Estate Market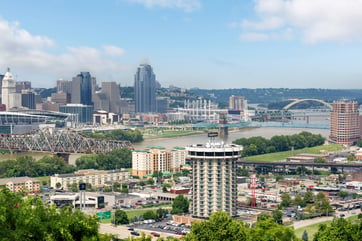 The real estate market in the Queen City of The West is hot. The average home stays on sale for just 2 days before going under contract, sales prices are up year-over-year and inventory has been reduced to 1,451 homes as of April 2022 - which means there's high demand among potential homeowners! With 60% renting instead of owning (according to data from 2017), this city offers an opportunity that can't be ignored by investors looking at investing their money into something worthwhile.
The population of Cincinnati, Ohio has been steadily increasing for the past 10 years thanks to government policies which promote growth and revitalization in an urban core. Greater Cincy includes three states- Ohio Indiana & Kentucky with 15 counties that make up this metropolitan area were 4% per year over the last decade-plus more than 2 million residents live there despite having some modest job losses during late recessions. The recent construction boom has resulted in an increase of nearly 11,000 new housing units since 2012 while reducing the vacancy rate to only 5%.
This is good news for real estate investors as it means there is an opportunity to provide much-needed rental units in a city with strong population growth and limited housing options. In addition, the city offers a number of tax incentives for investors that can help offset the cost of development and improve ROI.
Cincinnati is also attracting new businesses and entrepreneurs which is helping to drive economic growth and create jobs. The city's unemployment rate has decreased from a high of 9.4% in 2010 to 4.1% in 2019 and is projected to continue falling. This is good news for real estate investors as it means there will be an increasing demand for housing from new residents and workers moving into the city.
The combination of strong population growth, limited housing supply, and a robust economy make Cincinnati an attractive market for real estate investors. If you're thinking about investing in this city, now is a good time to get started.
Key employment stats for the citizens of Cincinnati are impressive. The GDP sits at $152 billion and has grown 44% over 10 years, with 2/3rds percent growth coming from private sector jobs in recent months alone! In addition to this great figure we also have some truly special statistics- unemployment stands currently at 3%. This means there is plenty going on around these parts if you're looking into moving your company or just want more information about what makes life here so good!
The city of Cincinnati is home to more than 21,000 people who work at The Kroger Company and 15, 000+ university workers. More than 35% of residents in this area have bachelor's degrees or higher while nearly 92 percent are high school graduates or lower! CVG handles 8-9 million passengers annually with nonstop flights available for 38 top markets as well as Europe; it also has one DHL Express Super Hub that contains 1,200 tons of capacity.
Cincinnati is continuing to experience a renaissance, with new mixed-use developments popping up all over downtown and neighborhoods being revitalized. This is good news for real estate investors as it means there is an opportunity to get in on the ground floor of these projects and reap the rewards when they are completed.
The Zillow Home Value Index (ZHVI) for Cincinnati is $215,291 through November 2021. This represents an increase of 17% over the past year and means that your home's value has increased by about 6%. However, this figure doesn't tell you everything; it also depends on where in town you live! For example, median sales prices have grown at rates ranging from 1 to 14 percent annually depending upon whether they're newer developments or older neighborhoods with higher land costs--which makes sense since those areas would be more costly per square foot due largely to lot sizes.
If you are thinking about investing in the Cincinnati real estate market, contact us today.