About the Tulsa Real Estate Market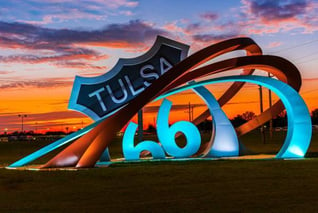 Why Should You Invest in Tulsa Real Estate?
The History Of Tulsa's Growth And Development
Tulsa was once known as the world's oil capital, but it has since grown and diversified into a modern metropolitan area. Because of this history, investors are drawn to its potential growth and expansion in the coming years. As with many cities that have experienced rapid growth, there are plenty of opportunities for those looking to capitalize on emerging markets and build a lucrative portfolio. Additionally, as more people move out of larger cities due to COVID-19 related job losses, Tulsa is becoming increasingly attractive as a place to live or invest.

Why You Should Invest In Real Estate In Tulsa Now
Real estate in Tulsa offers some attractive features that make it stand out from other markets in the country. For one thing, its appreciation rate is higher than most comparable cities across the U.S. which means that your investments will likely yield returns relatively quickly. Furthermore, housing prices remain affordable compared with many other parts of the country so you can still get good deals even if you're not investing large amounts of capital at once. Finally, properties tend to stay on the market for shorter periods than elsewhere which means faster turnaround times when buying and selling properties in Tulsa.
Tulsa is nestled between the foothills of the Ozark Mountains and Osage Hills, along the banks of the Arkansas River. It is no wonder why Tulsa ranks as one of the top 10 places to buy a home - with its combination of outdoor beauty and urban amenities, it offers something for everyone.

In addition to being an attractive place to live, Tulsa also boasts reasonably priced real estate. The median home price in Tulsa is currently near $200.000 - well below that of other major cities across the country. This makes Tulsa an ideal investment destination for those looking to purchase property at a discounted rate compared to other areas in the US. Furthermore, homes in Tulsa have been appreciating steadily over recent years making them even more appealing for potential buyers and investors alike.

The average time on the market for homes in Tulsa is just 35 days - far less than other major cities like Los Angeles or New York City where properties can stay on sale for months at a time without being purchased. This speaks volumes about how eager people are to invest in this vibrant city and live amongst its many attractions and amenities while still enjoying the peace and tranquility of living near nature's beauty.
Tulsa is an ideal location for real estate investors looking not only for great returns but also for beautiful scenery and amenities within reach. With its low median home prices and fast-moving sales, investing in property here could be extremely lucrative whether you decide to buy and hold or flip as part of your investing strategy. With so much going for it – from its majestic natural surroundings to its fast-growing economy – now might be just the right time to consider investing here!
Groundfloor also offers real estate loans and investment options in top real estate markets such as Charlotte, Kansas City, Tampa, Raleigh, Minneapolis, Orlando, Atlanta, and Cincinnati.